Your All-in-one Practice Management Solution

Our EHR is made for physical, occupational, and speech therapists who want to manage their practice in one place. Designed to streamline your work so you can spend more time with patients, Fusion will help you optimize and grow your practice.
From billing to documentation, our software is packed with features and custom forms specific to the industry, like pediatric and adult templates or Medicaid billing codes.

Stay on top of your practice's productivity and health with integrated performance insights and custom report builders.
Thanks for your interest in Fusion!
Fill out the form below and we'll get in touch shortly.

Documents
Stay on top of notes with our PT, OT, and SLT-specific documentation system

Billing
Get paid faster with a practice management software that includes integrated billing

Scheduling
Seamlessly manage schedules with Fusion's fully integrated calendar

Insights
Optimize performance with real-time insights and easy-to-use reporting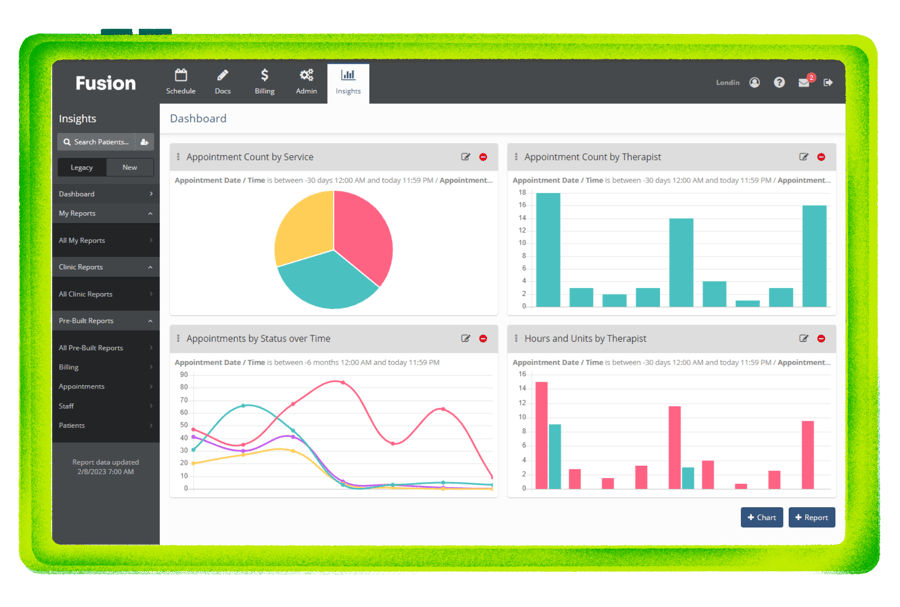 Your Practice in One Glance
Finally, reporting that doesn't take a degree in data science. Build the reports you need and add them to unique dashboards for a bird's eye view of your practice's productivity and health. They're easy to make, read, clear, and professional.
Whether you want to showcase a client's progress or track client payments, you can create, clone, customize or use your own reports, or take advantage of our pre-built options. Easily share reports with clients or team members.
Work Smarter, Not Harder
Scheduling clients is the backbone of any practice, so Fusion created a smart calendar that works for you. Your schedule is organized to make it easy to manage, even for practices with multiple locations. When you check in for the appointment, a note is automatically created to help you with billing. Your practice is unique, so you can customize your schedule as needed. The "drag and drop" options are user-friendly, so you spend less time training and more time helping clients.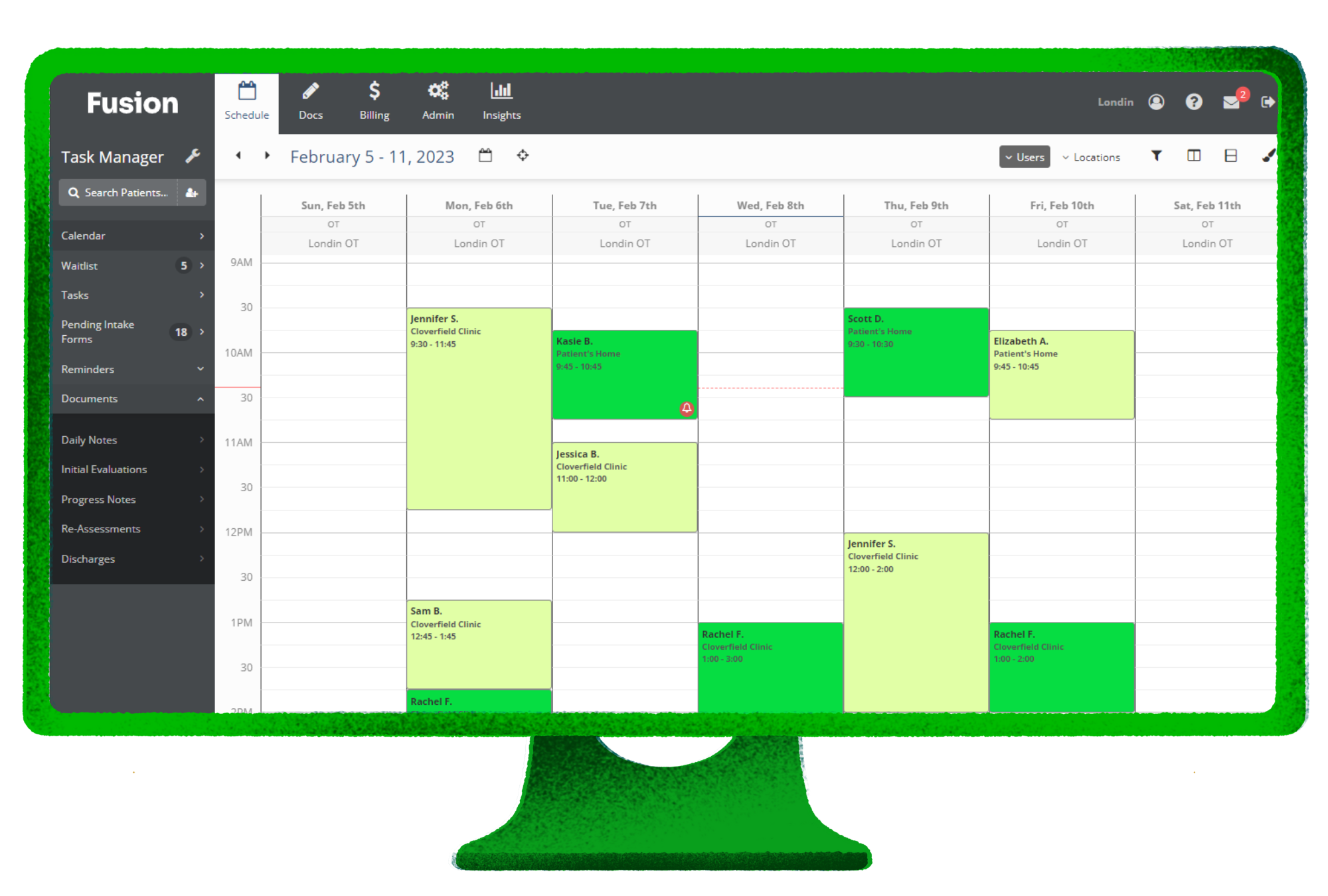 Your coach will learn about your practice's goals, needs, and priorities to provide the highest level of service.

Home Exercise Program

HEPs can be assigned and viewed directly from the client portal. Manage and organize them easily.

Telehealth

Secure, HIPAA-compliant, and easy to use. No downloads or login, clients can just click their secure link.
Our Customers Say It Best:
"I use Fusion for both my pediatric and adult patient population and have found it extremely versatile and easy to use. I would recommend them for anyone in a large or small practice."
Kimberly C.
Owner and Occupational Therapist
"Amazing and very efficient software. The efficiency! Documentation takes less time. It is also very user-friendly and easy to learn. The support staff has been amazing."
Diana D.
Co-founder
"Fusion has allowed all our therapists to save time documenting, especially on progress notes and evaluations. We appreciate that each discipline can adapt documentation to fit our own clinic needs."
Leti H.
Owner