The Power of Fusion + Catalyst
PT, OT, and Speech EMR Solution

+

ABA Data Collection
When helping children with autism, it's crucial to combine occupational, physical, and speech therapy into a comprehensive care plan. Fusion is here to help. Our electronic medical record (EMR) system is specifically designed for PT, OT, and SLT practitioners. It provides convenient tools for documenting, scheduling, and reporting — saving you time. We also developed Catalyst, a dependable software for collecting and analyzing data, which is essential for applied behavioral analysis. Catalyst offers automated reporting and graphing features for detailed insights. By combining Fusion and Catalyst, you'll have the tools you need to run your practice effectively — getting you back to proving care.
Let Us Show You What We Can Do

Documents
Stay on top of notes with our PT, OT, and SLT-specific documentation system

Billing
Get paid faster with a practice management software that includes integrated billing

Scheduling
Seamlessly manage schedules with Fusion's fully integrated calendar

Reports
Generate insurance reports, home notes, and graph consolidation with a click.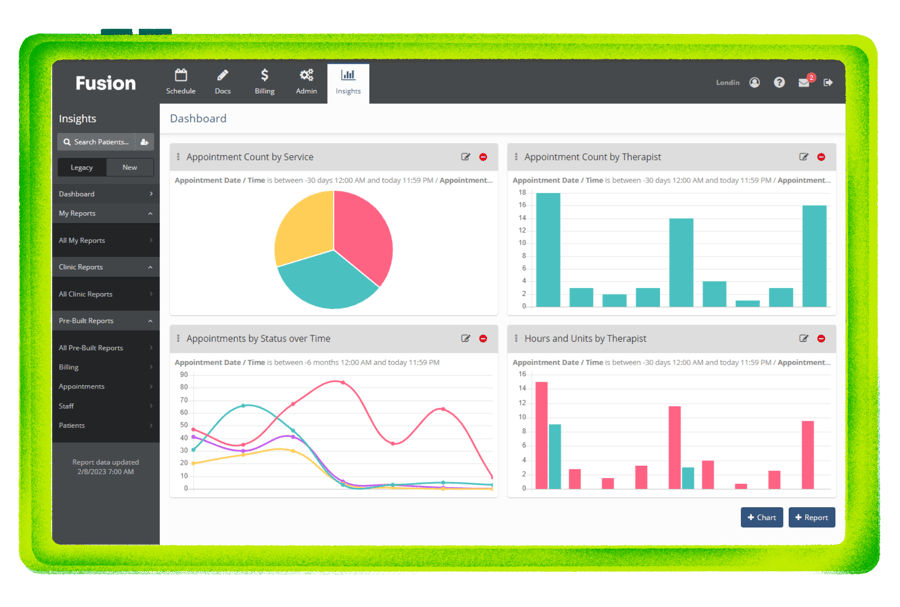 Evaluate Progress in One Glance
Finally, a reporting feature that doesn't require a degree in data sciences. Easily create and add reports to personalized dashboards to get an overview of your practice's productivity and health. Choose from our pre-built options or customize your own reports with just a few clicks.
When showing progress to clients, we believe a picture is worth a thousand words. Easily show parents or caretakers how their child is improving with automatically generated graphs that can be shared anytime.
Work Smarter, Not Harder
Fusion's intelligent calendar is designed to simplify time management, even for practices with multiple specialties or locations. You have the option to color-code your appointments by location, type, status, and more. When you complete an appointment's documentation, an automatic note is generated to facilitate billing. Our calendar is customizable to suit your unique practice needs, and our user-friendly "drag and drop" feature means less time spent on training and more time attending to your clients.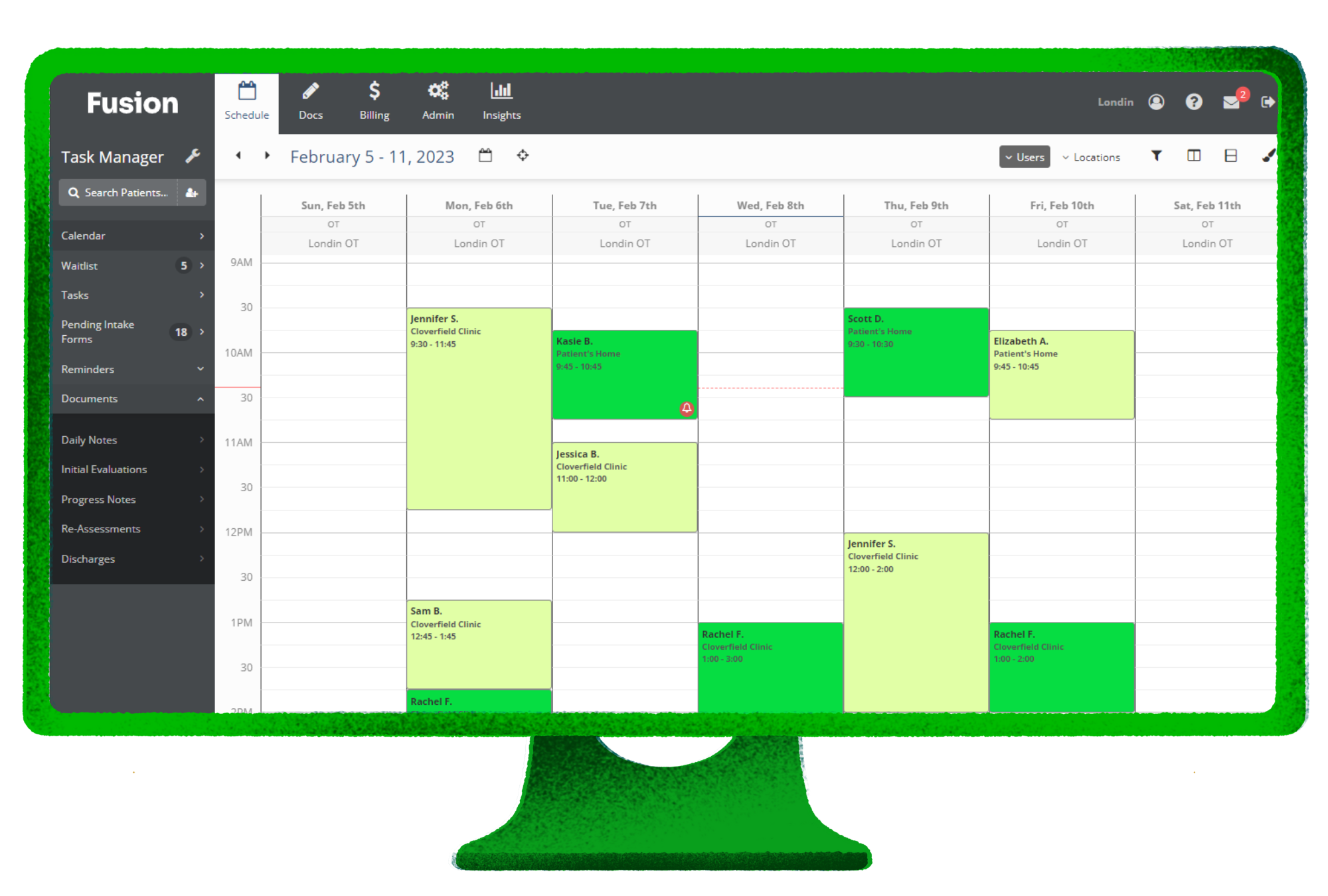 Data Collection Simplified
With Catalyst, data collection for crafting detailed plans to aid children with autism is a breeze. Designed specifically for BCBAs, Catalyst offers skill acquisition data collection tools. Our focus is on making your data work for you, which is why we provide various automation tools to help you create progress reports, cutting your documentation time by hours. Customize your data with our real-time graphic tools, and never waste a moment searching for the right settings for you or your clients.
More Than Digital Pen and Paper
Digitizing your work is just the beginning with Catalyst. Our software takes it to the next level by intelligently advancing through targets as your clients progress, optimizing care and ensuring your data is always at your fingertips. With Catalyst, you can conduct in-depth task analyses, collect ABC data, and perform preference assessments, all while syncing recorded videos from our mobile app for later viewing. Record audio for echoic data, take quantity data, conduct cold probes, and collect anecdotal data with ease – Catalyst takes your digital experience to the next level.

Fusion
PT, OT, and Speech EMR Solution
Starts at $29
per user per month (minimum 5 users)
Scheduling
Documentation
Task Manager
Patient Goal Tracking
Set Up and Data Import
Unlimited Support
ICD-10 & HIPAA Compliant
Catalyst
ABA Data Collection
Starts at $24.99
per license per month
Skill Acquisition Data
Advanced Graphing Engine
Behavior Reduction Data
Automatic Progress Reports
Automated Mastery, Maintenance, and Baseline Criteria
Add-ons
We are built to scale with you.
Talk to Us
Find the right solutions for your practice
Revenue Cycle Management Services
Telehealth
Home Exercise Programs Platform
Dedicated Success Coach

*Some discount limits may apply. This offer is only valid for a limited time. Only applies to monthly subscription plan and the discount does not apply to add-ons. Discount is only applicable to new PMS subscriptions.
Want to Learn More? Let's Chat.